If you'd like to temporarily pause your campaigns, you can do this from the dashboard. There are however a couple of restrictions around pausing your campaigns.
You can only pause for 30 days each year before risking your spot as a Geek customer. If you do pause leads for more than 30 days in a calendar year, we reserve the right to contact any companies on the waitlist for your area and give them the option to purchase leads in your service area. Is this reasonable for us to do? We pay our bills by selling leads, so when lead campaigns are paused, we are not making money. We hope you can see that we can't hold areas open with no leads being sold and expect to stay in business very long!

We will NOT notify you if we plan to contact other companies on the waitlist for your area. Why won't we notify you? Not because we want to be difficult! We have tried this 'notification approach' in the past and have learned that contacting the 'paused company' is very confusing to the potential new client plus slows the process down quite a bit.

If you pause leads for longer than 30 days and want to return, you may find your service area open still. But you may not. That is the risk you are taking if you pause for longer than 30 days in a calendar year.
Due to how our campaigns are structured, you will find that you can't pause your leads immediately, but the system will give you the option to pause starting 7 days in the future.
To pause your campaigns, follow these steps:
1) If you have multiple markets with Geek, be sure to select the appropriate market from the dropdown at the top of the screen.

2) Go into the Geek Dashboard and click the "Menu" button at the top right. Select the "Pause services" option from the menu.
3) Select the timeframe you wish to pause using the inputs provided.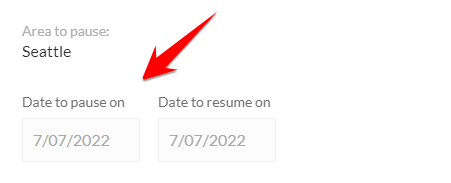 4) Be sure to review the notice at the bottom, then click the checkbox indicating that you have read it. You can then complete your request by clicking the "Request for your campaign to be paused" button.